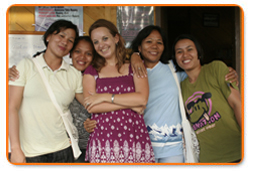 On the set in Poso, Indonesia
Spotted Frog Productions was started in 2006 by Sue Useem. It is a not-for-profit documentary production agency dedicated to increasing awareness and education about misunderstood and forgotten conflicts and social issues around the world. Through the combination of filmmaking, new media, academic rigor and journalistic integrity, Spotted Frog strives to increase the dialogue on the causes and consequences of violent conflict, oppression, and human rights violations.

Realizing the important role that media plays in creating conflict-and peace-Spotted Frog is dedicated to highlighting what can be done to make a more just world for those who we would otherwise not know about.